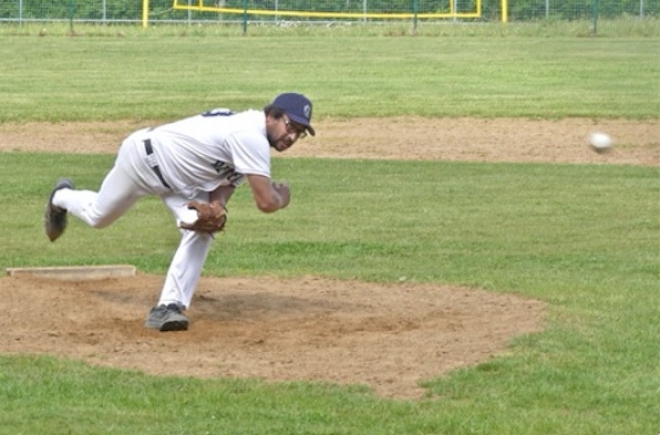 Ben Gomes H of the year
Ben Gomes remporte, pour la première fois de son admirable carrière, le titre de meilleur Hedgehog de l'année. Il devient ainsi le 4ème joueur différent de l'histoire des H's a recevoir ces honneurs (outre à Slavazza, Godoy et Defeche). Il devance au classement Ricardo Polanco et Sylvain Gaudnek.



Le titre est amplement mérité et les stats soulignent une performance ultra complète. Le batting, le pitching, la défense; il fut un des meilleurs, sinon le meilleur, dans chaque catégorie. Avec un batting average de 370 (moyenne du club de 311), 17 hits (leader), 11 bases volées, 14 runs et une présence en base de 517, il fut une menace constante en attaque. Au pitching, il a remporté 4 de ses 6 matchs démarrés alors qu'il avait souvent à faire à un lineup adversaire plus dangereux que le sien. Il a également inscrit 42 strikeouts en 45 innings, soulageant ainsi grandement ses défenseurs. Ses prestations ont été la colonne vertébrale d'une équipe qui a réussi à décrocher, au-delà de toute attente, une 3ème place au championnat régional allemand le plus élevé.

Félicitations!



Le meilleur rookie du club a été cette année Matt Hansan, champ centre des Hedgehogs en début de saison et qui n'est malheureusement plus au pays. Il devance Sebastian Maramotti, issu à mi-saison de l'équipe jeune beckerichoise, et qui a eu un impact immédiat au sein du lineup offensif.



De manière moins individuelle, il est important de souligner que les Hedgehogs ont cette année à nouveau rempli leur engagement de promotion du baseball et de développement de joueurs. 31 joueurs ont connu l'honneur de fouler le terrain sous le maillot beckerichois, dont 10 ont servi aussi en tant que pitcheurs. On peut considérer ce nombre de joueurs comme étant plutôt important lorsque l'on sait que le baseball est à la base un sport où les changement sur le terrain sont plutôt rares et que Beckerich et ses alentours n'offrent certes pas une ressource démographique impressionnante. Il est d'autant plus réjouissant de souligner que cette saison a vu débuter pas moins de 12 rookies au sein de l'effectif des adultes!